MusicOne
Power Music Software's range of innovative and unique MusicOne digital music stands.
These digital music stands are designed for professional and serious musicians who are looking for a high quality system to store and display all their music. The MusicOne 22/24 is particularly suitable for visually impaired musicians. MusicOnes can be supplied with or without the stand. Custom system with up to 27 inch touch screens can be supplied for conductors and organists using large scores. All MusicOne systems have Power Music Professional pre-installed. These touchscreen models, running Microsoft Windows 10 are:
MusicOne Pad (10 inch)
MusicOne 12
MusicOne 16
Large screen MusicOne 22/24/27
MusicOne 16 can also be used in a Band setup (see below).
For pricing and detailed specifications go to the Store page or contact us for custom systems:
support@powermusicsoftware.com or +44 (0)1355 246832
Band Setups
For an individual musician, moving to digital music display it is a big decision – for a band it is even bigger! To help you make the right choises we have written the booklet "Going Digital – A Guide for Bands".  This booklet asks questions about how you would use digital music display in your band and offers in-depth technical advice on "Going Digital".  You can download a copy of the booklet here: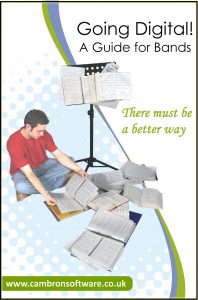 A complete Band Setup has all the hardware and software you need to display music for a whole band.  The Band Setups are completely configurable.  There are two versions –
Standard Band Setup with a mini PC and 22 or 24 inch monitors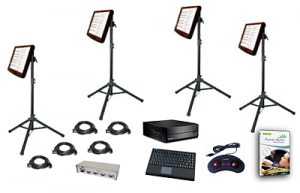 MusicOne 16 Band Setup with a touchscreen MusicOne 16 and 18.5inch monitors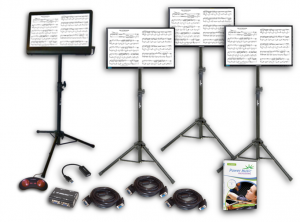 The default setup has 4 screens – with cloned display (all displaying the same music).  The band leader can control page turning and song selection using a foot pedal or by touchscreen.
Contact us to discuss your requirements:
support@powermusicsoftware.com or +44 (0)1355 246832